Live from MARVEL Stadium in Melbourne, Australia

UFC 243: WHITTAKER vs ADESANYA will stream exclusively on ESPN+ PPV this Saturday, October 5, at 10 p.m. ET from MARVEL Stadium in Melbourne, Australia. The main event features UFC middleweight champion Robert "The Reaper" Whittaker (21-4) versus undefeated interim champion Israel "The Last Stylebender" Adesanya (17-0) to decide the undisputed UFC middleweight title. UFC 243 will also feature a co-main lightweight fight between ranked contenders No. 6 "Raging" Al Iaquinta (14-5-1) and No. 15 Dan "The Hangman" Hooker (19-8).

UFC 243: WHITTAKER vs ADESANYA will begin with early prelims at 6:45 p.m. ET on ESPN+ in English and Spanish, with prelims at 8 p.m. ET on ESPN2 and ESPN Deportes.
Whittaker, who was born in New Zealand and trains out of Sydney, Australia, will be seeking his 10th straight UFC victory following his latest win, a five-round decision over current No. 3 UFC middleweight Yoel Romero (13-4) at UFC 225 in June 2018. Adesanya, a Nigerian-New Zealander, has his own winning streak of six UFC fights, having never lost a professional bout in 17 total contests. His most recent win was a five-round decision for the interim UFC middleweight title, which is the consensus leading contender for "Fight of the year", beating Kelvin Gastelum (16-4) at UFC 236 in April.
In the co-main event, Iaquinta will look to rebound after losing a five-round, "Fight of the Night" decision to Donald "Cowboy" Cerrone in May of this year. He'll take on Hooker, a New Zealander coming off a first-round "Performance of the Night" KO win over James Vick (13-4) in July.
UFC 243: WHITTAKER vs ADESANYA Original Content:
• Detail: Daniel Cormier breaks down Israel Adesanya
UFC 243: WHITTAKER vs ADESANYA on ESPN.com:
• ESPN's Brett Okamoto on Whittaker's chance to reverse his fortune in defending his title versus Adesanya
• MMA experts explain their picks for UFC 243 (E+)
• UFC 243 Main Event Breakdown: Can Whittaker handle Adesanya's striking accuracy?
• ESPN's Stuart Randall on The New Zealand fighter factory that punches well above its MMA weight
• MMA Fightcenter: Live statistics and fighter profile cards
• UFC 243 Betting Guide (E+)
• UFC on ESPN: Complete Schedule
• All UFC 243 Coverage: ESPN.com/mma
UFC 243: WHITTAKER vs ADESANYA Marvel Superhero Poster:
A special event poster created by Marvel artists Francesco Mobili and Wil Quintana will add to the UFC superhero atmosphere at Marvel Stadium.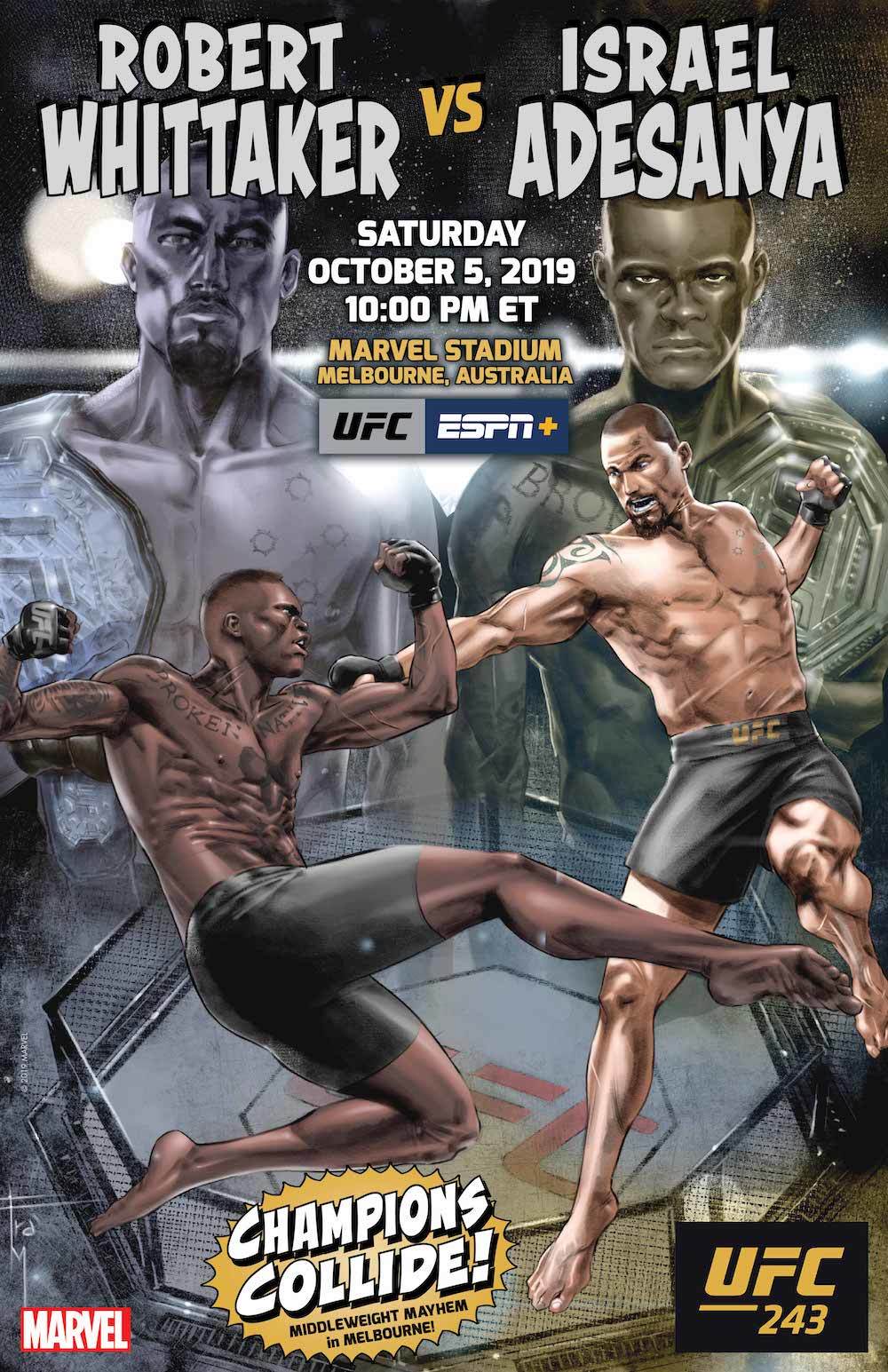 Social: @ESPNMMA Twitter, Facebook and Instagram.
How to Watch

• Existing ESPN+ subscribers can purchase and watch UFC 243 for $59.99 at ESPNPlus.com/ufc/ppv or on the ESPN App across all major TV-connected devices.
• New ESPN+ subscribers can purchase UFC 243 and a full year of ESPN+ for just $79.98.
• Users can sign up and purchase via the ESPN App across mobile and connected-TV devices or via the web at ESPNPlus.com/ufc/ppv and ESPN.com.
• Fans can sign-up for ESPN+ at any time at ESPNPlus.com, ESPN.com or on the ESPN App for $4.99 per month or $49.99 per year.
# # #
About UFC®
UFC® is the world's premier mixed martial arts organization (MMA), with more than 300 million fans and 70 million social media followers. The organization produces more than 40 live events annually in some of the most prestigious arenas around the world, while broadcasting to nearly one billion TV households across more than 170 countries. UFC's athlete roster features the world's best MMA athletes representing more than 60 countries. The organization's digital offerings include FIGHT PASS®, one of the world's leading streaming services for combat sports. UFC was acquired in 2016 by global entertainment, sports and content company Endeavor, along with strategic investors Silver Lake Partners and KKR. For more information, visit UFC.com and follow UFC at Facebook.com/UFC, Twitter, Snapchat and Instagram: @UFC.
About ESPN+
ESPN+ is the multi-sport, direct-to-consumer video service from The Walt Disney Company's Direct-to-Consumer and International (DTCI) segment and ESPN. It reached 2 million subscribers in less than a year and offers fans thousands of live events, on-demand content and original programming not available on ESPN's linear TV or digital networks, along with premium editorial content.
Programming on ESPN+ includes hundreds of MLB and NHL games, exclusive UFC, Top Rank boxing and PFL fights and events, top domestic and international soccer (Serie A, MLS, FA Cup, UEFA Nations League, EFL Championship, EFL Carabao Cup, Eredivisie, and more), thousands of college sports events (including football, basketball and other sports), Grand Slam tennis, international and domestic rugby and cricket, new and exclusive series, acclaimed studio shows and the full library of ESPN's award-winning 30 for 30 films. Fans subscribe to ESPN+ for just $4.99 a month (or $49.99 per year) and can cancel at any time.
ESPN+ is available as an integrated part of the ESPN App (on mobile and connected devices) and ESPN.com. They are the industry-leading all-in-one digital sports platform, delivering a rich, personalized experience to tens of millions of fans every month.
About ESPN
ESPN, the world's leading sports entertainment enterprise, features more than 50 assets – nine U.S. television networks, ESPN Radio, ESPN.com, ESPN International, ESPN The Magazine and more. ESPN is 80 percent owned by ABC, Inc. (an indirect subsidiary of The Walt Disney Company) and 20 percent by Hearst.
###
ESPN
Ardi Dwornik / ardi.r.dwornik@espn.com / 646-547-5612
Santa Brito / santa.brito@espn.com / 646-547-5602
Danny Chi / danny.c.chi@espn.com / 213-405-4400
Disney DTCI
Kevin Ota / kevin.r.ota@disney.com / 860-766-9581
Paul Melvin / paul.melvin@disney.com / 860-766-5069