Coverage of FC Barcelona vs. Real Madrid rivalry in English and Spanish; Kickoff at 10:15 a.m. ET



Expansive lead-up coverage from Camp Nou begins Thursday, Oct. 21 across ESPN platforms

All-Star team of match and studio commentators, hosts, analysts and reporters from site

ESPN+ available on ESPN.com and ESPN App for mobile and connected TV devices
    

ESPN+, the exclusive home of LaLiga Santander in the U.S., will present English- and Spanish-language coverage of ElClásico -- FC Barcelona vs. Real Madrid -- on Sunday, October 24 at 10:15 a.m. ET, live from FC Barcelona's Camp Nou in Spain. The match will follow a week of unprecedented ElClásico lead-up coverage across ESPN networks and ESPN+, including live match commentary and studio shows originating from Barcelona Thursday, October 21 through Sunday, Oct. 24.
Considered the greatest rivalry in club football, Barcelona vs. Real Madrid features some of the best players in the sport such as: Karim Benzema, Luka Modrić, Casemiro, Tony Kros, Vinícius Jr. for Real Madrid; and Barcelona's roster includes U.S. defender Sergiño Dest, Sergio Busquets, Gerard Piqué and Ansu Fati. This will be the first ElClásico to air on ESPN+ as part of a multi-year agreement announced earlier this year.
The ElClásico presentation will offer fans both the traditional match coverage and an alternative multi-camera viewing experience, giving fans the opportunity to enjoy different perspective and match data through a more personalized experience.
ElClásico Commentators
English: Ian Darke (play-by-play), Steve McManaman (analyst) and Alexis Nunes (sideline)
Spanish: Ricardo Ortiz (play-by-play), Mario Kempes (analyst) and Martin Ainstein (sideline)
ESPN's English and Spanish-Language TV Personalities in Barcelona for ElClásico
ESPN's ElClásico commentator team includes former players and coaches reporting from Camp Nou. The roster of television hosts, analysts, insiders and reporters include: Martin Ainstein, Sam Borden, Ian Darke, Rodrigo Fáez, Luis Garcia, Mario Kempes, Moises Llorens, Sid Lowe, Steve McManaman, Alejandro Moreno, Alexis Nunes, Ricardo Ortiz, Hernán Pereyra, Jorge Ramos, Hugo Sánchez, Gemma Soler, Dan Thomas and Pablo Zabaleta.
ElClásico Programming Lineup (All Times Eastern. Here for weeklong schedule)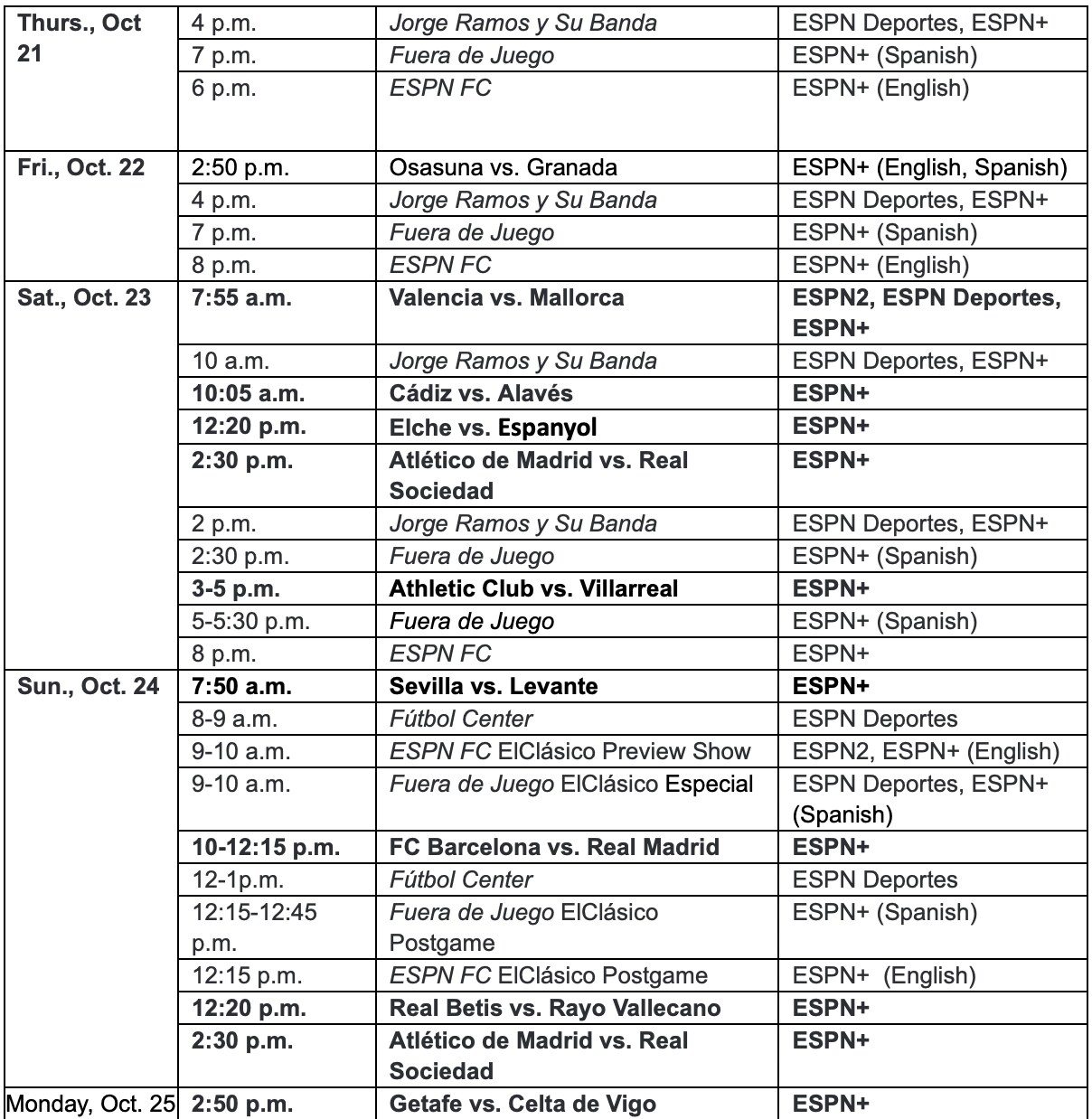 * Subject to change
Studio Shows From Barcelona
Jorge Ramos y Su Banda (ESPN Deportes, ESPN+)
Jorge Ramos and Hernán Pereyra – hosts of the popular, three-hour soccer talk and debate show – will be live from Barcelona beginning Thursday, Oct. 21. The show will be hosted from Spain on Thursday, Friday and Saturday. (Oct 21-23) The duo will be joined by a rotation of guests from outside studios, including José del Valle, Carolina De Las Salas, Andrés Agulla, Fernando Palomo, Richard Méndez and Dionisio Estrada. The three-hour show will air on ESPN Deportes and ESPN+ from 4-7 p.m. ET. on Thursday and Friday. On Saturday, Oct. 23, ESPN Deportes and ESPN+ will air two, 2-hour editions at 10 a.m. ET and 2 p.m. ET.
ESPN FC – ESPN+ & ESPN2
ESPN FC begins its countdown to ElClásico on Thursday, Oct 21 with Dan Thomas, Alexis Nunes Luis Garcia, Pablo Zabaleta, Steve McManaman and Sid Lowe providing coverage and analysis Thursday to Saturday. On game day from 9-10am ESPN FC gets you ready for kickoff from inside the Nou Camp on ESPN 2/ESPN + before the game coverage begins at 10am on ESPN + and a post-game show at 12:15 p.m. ET on ESPN+.
Fuera de Juego – Exclusively on ESPN+
The European soccer news and analysis show will serve as the Spanish-language pre and post report throughout the weekend. Jorge Ramos and Hernán Pereya will host the shows from Barcelona. These special editions will air on ESPN+ on Thursday, Oct. 21 and Friday, Oct. 22 at 7 p.m. ET and on Saturday, Oct. 23 at 2:30 p.m. ET. On Sunday, the show will air as a pre (9 a.m. ET) and post (12:15 p.m. ET.
ElClásico Archive Matches
Leading up to ElClásico, ESPN platforms will air a total of six archive ElClásico matches dating back as far as 2004. Schedule.
Original Content
In addition to studio programming, ESPN+ will be home to original ElClásico content. Available in English & Spanish:
LaLiga the Movie

: Until recently, the soccer industry thought only the biggest stadiums could support the logistical requirements of a Real Madrid-Barcelona clash, but on April 10, 2021, fans saw ElClásico played at Estadio Alfredo Di Stefano, Real Madrid's state-of-the-art Valdebebas training facilities. "LaLiga the Movie" takes fans inside the match preparations for hosting a Madrid-Barcelona clash at Los Blancos' training facilities.



Analyzing ElClásico:

Analysis of the biggest game of the year by focusing on the tactics, include a look at the strategy of both teams' head coaches.



The Road to ElClásico:

A look at how Barcelona and Real Madrid will arrive at the league's week 10's fixture this season.



Digital
Digital Soccer and Video Coverage in English and Spanish
Spain-based reporters Graham Hunter, Sid Lowe, Alex Kirkland, Rodrigo Fáez, Sam Mardsen and Moisés Llorens will headline ESPN.com and ESPNDeportes.com daily news and information coverage. Highlights:
ElClásico Preview

: Sid Lowe previews the match, highlighting everything fans need to know ahead of the match



Defining players and moments of the Clásico: looks at all the key players and rivalries through the years

Scouting Report:

Our resident scout, Tor-Kristian Karlsen, assesses all the young, new players on Real Madrid and, especially, Barcelona




Video piece on Real Madrid's Karim Benzema




Match-day coverage – Graham Hunter and Gab Marcotti share insights on the match



ElClásico:

Historic XI's. Players with more Clásicos played




Barcelona and Real Madrid bad moments…How they arrive at ElClásico by the numbers and stats?



ESPN Social
ElClásico content will feature prominently on ESPN's industry-leading social media in the lead up, during and immediately after the match, including highlights, entertaining off-field moments, fan-generated content, custom edits and more across Instagram, Snapchat, Facebook, Twitter, TikTok and YouTube.
@ESPNDeportes social will also provide culturally relevant highlights, breaking news content, interviews, in the lead up, during and immediately after the match across its social media platforms – Facebook, Instagram and Twitter.
ElClásico on ESPN+ Marketing Spot
ElClásico marketing spot will use the music track "De Plata" from Spanish singer and songwriter Rosalía. The pregame coverage will integrate shots from FC Barcelona and Real Madrid New York-based Peñas (fan clubs) as part of the pregame coverage.
About ElClásico Production
ElClásico is LaLiga's biggest production of the season, produced with cutting-edge technology, including 32 full 4K-HDR cameras. Production features include a Helicam, drones, aerial cameras, 360-degree repetitions, live statistical graphics, and a SONY Venice, a cinematic camera installed at the foot of the pitch awarded with the Innovation award at SPORTEL.
One of the novelties of this year's production includes a MULTI-CAMERA feed that includes a master signal with extra repeats, short shot of action tracking, plan of goals, plan of benches, and a lower-third featuring real time updates.
– 30 –
ESPN / ESPN+:
Santa Brito / santa.brito@espn.com / 646-547-5602
Mac Nwulu / mac.nwulu@espn.com / 860-766-4196
Paul Melvin / paul.melvin@disney.com / 860-766-5069
Kevin Ota / kevin.r.ota@disney.com / 860-766-9581
Olivia Wilson / Olivia.Wilson@disney.com / 904-303-3538