6 of top 4 MLS teams from both Eastern and Western Conferences exclusively on ESPN+ this weekend: Austin FC, New York Red Bulls, Nashville SC, D.C United, Columbus Crew


LaLiga Leader Real Madrid exclusively on ESPN+ Monday, March 14



Xavi's Resurgent No.3 FC Barcelona exclusively on ESPN+ Sunday, March 13

Bundesliga's No.1 FC Bayern München exclusively on ESPN+ Saturday, March 12


Subscribe to ESPN+ at ESPN.com, ESPNPlus.com and on the ESPN App



MAJOR LEAGUE SOCCER
Austin FC scored its second consecutive 5 goal win this weekend (5-1 victory over Miami and 5-0 win over Cincinnati in week 1), eastern conference leader New York Red Bulls defeated Toronto 4-1 while San Jose Earthquakes and Columbus Crew were tied 3:3 as the MLS Live on ESPN+ heads into its third action-filled weekend. Highlights include:
● Saturday:
○ New York City FC vs CF Montréal | 1 p.m. ET
○ Columbus Crew vs Toronto FC | 1:30 p.m. ET
○ Houston Dynamo FC vs Vancouver Whitecaps | 6:30 p.m. ET
○ D.C. United vs Chicago Fire FC | 7:30 p.m. ET
○ New England Revolution vs Real Salt Lake | 7:30 p.m. ET
○ Orlando City SC vs FC Cincinnati | 7:30 p.m. ET
○ Philadelphia Union vs San Jose Earthquakes | 7:30 p.m. ET
○ FC Dallas vs Nashville SC | 8:30 p.m. ET
○ Colorado Rapids vs Sporting Kansas City | 9 p.m. ET
○ Portland Timbers vs Austin FC | 10 p.m. ET
● Sunday:
○ New York Red Bulls vs Minnesota United FC | 7 p.m. ET
Studio Coverage on ESPN+

● ESPN FC – the daily soccer news, information, highlights, and analysis program exclusively on ESPN+, will carry MLS segments throughout the 2022 season, including newsmaker interviews and recap of key match weeks.
● Futbol Americas – Hosted by Herculez Gomez and Sebastian Salazar, the soccer studio show exclusively on ESPN+ on Mondays and Thursdays at 8:30 p.m., will continue to cover Major League Soccer throughout the season
● MLS Review – Weekly MLS show featuring the previous week's highlights, and post-game interviews with players and coaches, available every Monday.
LALIGA EXCLUSIVELY ON ESPN+
Ten LaLiga matches will stream live from Friday to Monday exclusively on ESPN+ and ESPN Deportes with excitement building ahead of ElClásico, the epic battle between Xavi's resurgent FC Barcelona and league leader Real Madrid, exclusively on ESPN+ on March 20.
Highlights: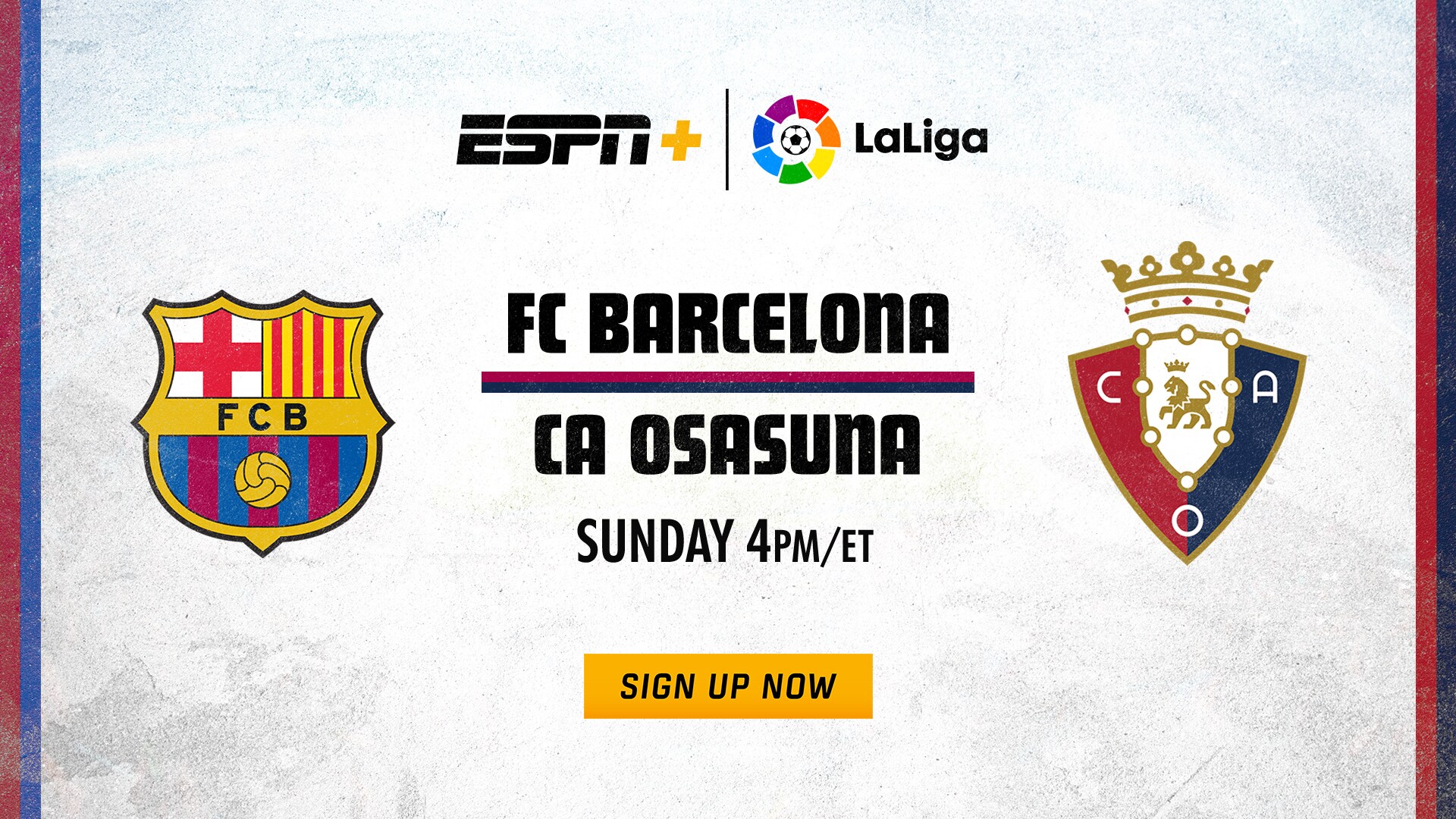 FC Barcelona vs CA Osasuna on Sunday at 4 p.m. ET
Xavi's FC Barcelona is in third place in LaLiga standings following the team's recent winning streak led by forwards Memphis Depay, Pierre-Emerick Aubameyang and US Men's National Team defender Sergiño Dest. FC Barcelona hasn't lost a match since December 4, 2021 and is hoping to narrow the gap with second-ranked Sevilla FC as they host CA Osasuna at Camp Nou on Sunday.
RCD Mallorca vs Real Madrid on Monday at 4 p.m. ET

Real Madrid's forward Karim Benzema second-half hat-trick against Paris St-Germain on Wednesday scored a 3-1 victory in one of the most thrilling knock-out games in the history of the Champions League. Real Madrid won 3-2 on aggregate, qualifying the team for the quarterfinals. On Monday, Real Madrid heads to the island of Mallorca to take on RCD Mallorca at Iberostar stadium.
LaLiga Studio Coverage:
● LaLiga Confidential with Kay Murray: The incredible Luka Modric
● Power Rankings with Dan Thomas
● La Tribuna de LaLiga con Fernando Palomo: La gran reacción del Atlético de Madrid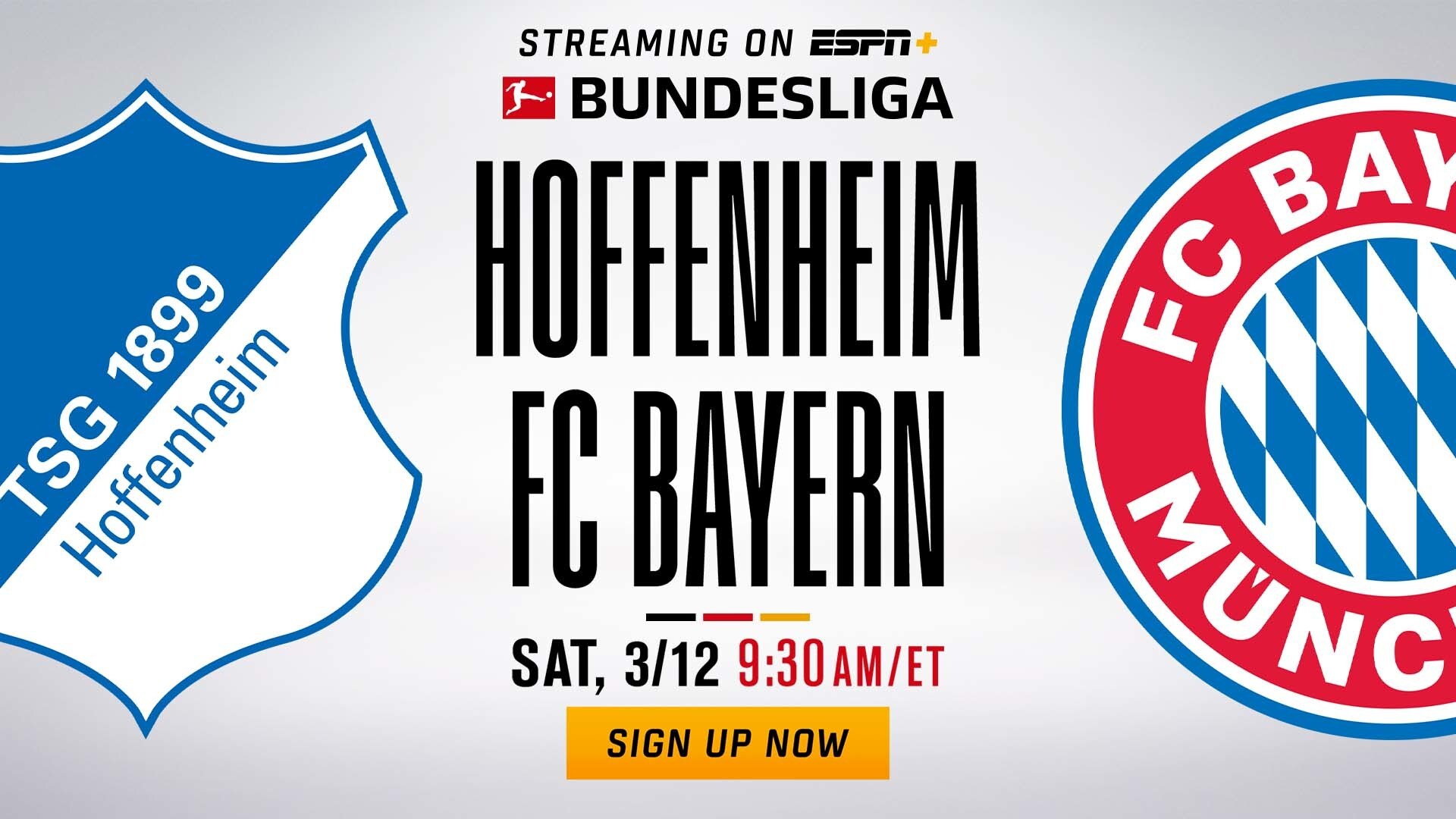 BUNDESLIGA

Exclusively on ESPN+ TSG Hoffenheim vs FC Bayern München on Saturday at 9:30 a.m. ET
Two of the top four teams in Bundesliga standings – league-leading FC Bayern München and No. 4 TSG Hoffenheim – will face each other at PreZero Arena, home of TSG Hoffenheim, on Saturday.
Additional Highlights on ESPN+
Saturday:
● Ricardo Pepi and FC Augsburg vs Mainz at 9:30 a.m. ET
● SC Freiburg vs Kevin Paredes and VfL Wolfsburg at 9:30 a.m. ET
● Bayer Leverkusen 04 vs FC Köln at 10:30 a.m. ET
● Gio Reyna and Borussia Dortmund vs George Bello and Arminia Bielefeld at 12:30 p.m. ET
● SpVgg Greuther Fürth vs Tyler Adams and RB Leipzig at 2:30 p.m. ET
SOCCER ON ESPN.COM
● Who should be Man United's next manager? We play Director of Football and make our case (ESPN+ Premium Content)
SOCCER EN ESPAÑOL
● Kylian Mbappé, por esto es que te tienes que ir al Real Madrid (Contenido Exclusivo)
● Messi: El mismo sabor del fracaso y su nueva añoranza por los años dorados en el Barcelona
-30-
Media Contact:
Christine Calcagno | Christine.B.Calcagno@disney.com