The general entertainment and sports streaming service launched today in the region with original productions created in and for Latin America, ESPN's live sports content, fan-favorite animated comedies and series, and classic films and recent movie premieres from all genres

Audiences can choose between a Star+ monthly or annual subscription, or access the most robust and varied collection in the streaming market through Combo+, a bundled offering for Star+ and Disney+ 


Buenos Aires, August 31, 2021 — Star+ (www.starplus.com), The Walt Disney Company's new general entertainment and sports streaming service for adults, was launched today in Latin America. The service includes fiction and non-fiction productions fully created in Latin America, a broad offering of live sports from ESPN, new international original productions, the full collection of animated comedies from 20th Television, exclusive movie premieres, and more. Star+ is available as a standalone service, or as part of Combo+, a bundled offering with access to Disney+.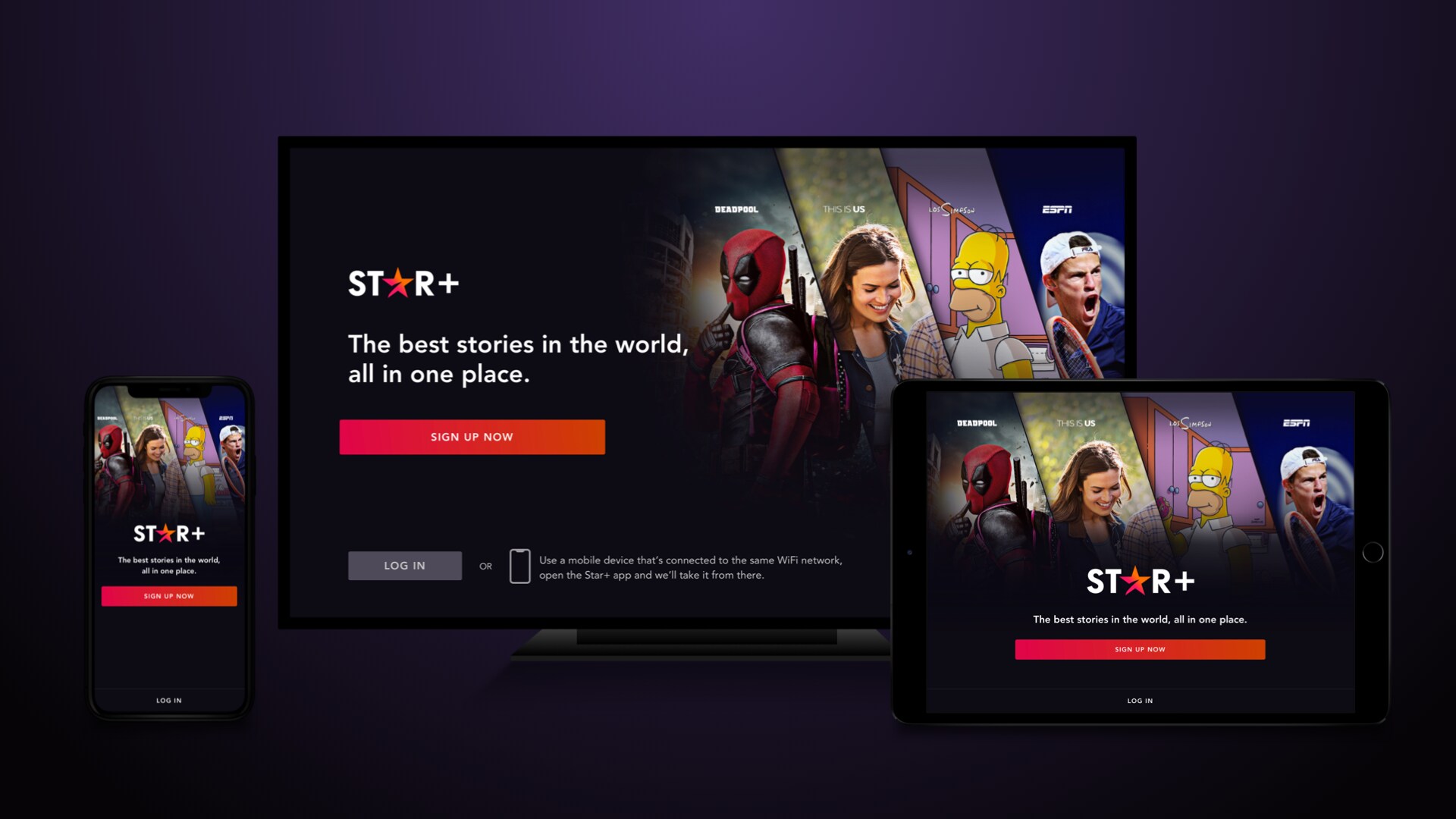 Product features, availability, and images accessible here
"Starting today, Latin American audiences have access to an entertainment experience never before seen in the region. Star+ confirms our commitment to generate relevant and varied offerings by providing our audiences with access to fully personalized content tailored to their tastes," said Diego Lerner, President, The Walt Disney Company Latin America. "Also starting today, Combo+ will be available: this unrivaled offering includes all the Star+ and Disney+ content for one appealing price and provides access to the largest high-quality streaming content in the Latin American market," he concluded.
Latin American Originals
Star+ subscribers can enjoy new original content created in and for Latin America with incredible talent from across the region, both on camera and behind the scenes. The regionally produced Originals begin rolling out today and address themes related to Latin American popular culture in both fiction and non-fiction formats through the most diverse genres: drama, with titles such as Santa Evita, No Fue Mi Culpa, and a new season of Impuros; comedy, with series such as El galán. La TV cambió, él no and Los protectores; dramedy, with productions such as Terapia alternativa and El encargado; thriller, with titles such as Insania and Horario estelar; biopic, with series such as Ringo and Pancho Villa. El centauro del norte; and docu-style reality shows, with productions such as the new season of the renowned documentary series Bios. Vidas que cambiaron la tuya.
You can learn more on the Latin American productions announced here.
ESPN and Live Sports (rights vary by region)
Star+ establishes a unique moment for sports content from Latin America with ESPN's arrival to the streaming world in the region. Its launch will be supported by a broad collection of live shows and events from the great European soccer leagues, such as France's Ligue 1 with its many stars led by Messi and Neymar; UEFA Champions League, UEFA Europa League, UEFA Conference League, Spain's LaLiga and Copa del Rey, England's Premier League and FA Cup, Italy's Serie A and Coppa, Portugal's Liga Portugal Bwin, Germany's Bundesliga and DFB Pokal cup, and The Netherlands' Eredivisie. It will also feature some of America's top competitions like CONMEBOL Libertadores, Copa do Nordeste, CONCACAF League, Copa de Oro CONCACAF, CONCACAF Champions League, CONCACAF Qualifiers Qatar 2022, Liga MX, Liga MX Femenil, BBVA Expansión MX league, Argentina's LPF, and MLS.
The sports offering also includes the tennis Grand Slam (Australian Open, Roland Garros, Wimbledon, US Open), as well as the ATP, WTA, and Abierto Mexicano tournaments; rugby with Los Pumas, URBA, Sanzaar, Seis Naciones, SLAR, and The Rugby Championship; NBA and NCAA basketball; motorsports with Formula 1 and MotoGP; boxing, UFC, and Bellator MMA; golf competitions like the PGA Tour, The Masters, The Open, PGA Championship, and Ryder Cup; cycling competition Tour de France; NFL football and NFL Red Zone; extreme sports with X Games; surfing from the WSL; LMB and MLB baseball; and hockey from the NHL.
In turn, Star+ will feature local versions of ESPN classics like SportsCenter with marquee and celebrity talent, as well as original productions created in Latin America, such as ESPN Knockout, ESPN Equipo F, and so much more.
Exclusive International Original Productions
The platform also includes new Star+ exclusive international original productions, with star-studded casts and renowned figures behind the scenes. Some of the much-anticipated titles include comedy thriller Only Murders in the Building, starring Steve Martin, Martin Short, and Selena Gómez; Love, Victor, Big Sky, and A Teacher. Original series that are global hits are also available, such as all seasons of This Is Us and The Walking Dead, including the double-episode finale that premieres today. Biographical drama Pam & Tommy, starring Lily James and Sebastian Stan, and Y: The Last Man, the new FX drama series based on the graphic novel by Brian K. Vaughan and Pia Guerra will also be included in the platform at a later time.
Fan-Favorite Animated Comedies
Finally, for animated comedies, the collection includes all 20th Television productions, such as the iconic multiple award-winning series The Simpsons, with all seasons available in one single platform for the first time. Fans can also watch titles such as Family Guy, Futurama, Bob's Burgers, all available now, and Solar Opposites premiering in late September.
Subscribers can watch Star+ on a wide selection of supported mobile and connected TV devices, enjoying high-quality content on up to four devices at the same time, up to 25 on-demand downloads across 10 devices, customized recommendations, the ability to set up seven different profiles, and robust parental controls. For more information on the platform's features, go to help.starplus.com.
About Star+
Star+ is a standalone general entertainment and sports streaming service in Latin America. It is complementary to, but independent from Disney+ in the region. The service is the home for exclusive premieres of general entertainment TV series and movies from The Walt Disney Company's content studios, including Disney Television Studios, FX, 20th Century Studios, Star Original Productions, National Geographic Original Productions and more, and the streaming service for live sports from ESPN, the most respected and renowned brand for sports fans in the region that delivers live events from Serie A, Ligue 1, ATP Tennis, NBA, NFL, MLS and more. From dramas to comedies, including all seasons of The Simpsons, and thrillers for adults, Star+ also features exclusive original programming from the Star general entertainment brand, along with a collection of regional original productions from Latin America. To learn more, visit: www.starplus.com.
Disney Streaming Contacts:
Jessica Casano-Antonellis
Jessica.Casano@disney.com
Kristie Adler
Kristie.Adler@disney.com